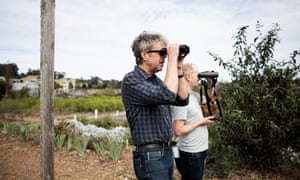 Birdwatching with Jonathan Franzen: 'Climate change isn't the only danger to birds'




Freedom … Jonathan Franzen with Guardian writer Oliver Milman at Natural Bridges Farm in Santa Cruz. Photograph: Talia Herman for the Guardian
'The two things I love most are novels and birds, and they're both in trouble,' says The Corrections author, one of the world's most famous birdwatchers
Having taken up the birder habit in New York's Central Park in his 40s, Franzen is now firmly ensconced in the world of twitchers, with their early mornings, their meticulously kept lists, their argot (the elastic harness attached to binoculars is called a "bra"). "Within the bird world the gull people are considered the super freaks," Franzen confides. "They talk about 'I think this is a worn alternate plumage of a second year whatever Iceland Gull which really looks a whole lot like a Herring Gull'. Oh, who cares."
In all, 40% of all 10,000 or so bird species are in decline in the face of threats such as agricultural expansion, logging, invasive species and hunting. "The situation is deteriorating and the trends are intensifying," said Tris Allinson, senior global science officer for BirdLife International, which produced the report.
"What does that tell us? Tells us something is not good," Franzen says of the seabirds, as he pads the garden, looking at a couple of California towhees through his binoculars.
Towhees, essentially bulkier everyman sparrows, are Franzen's favourite bird, which is perhaps surprising given the planet is inhabited by cassowaries, bald eagles and iridescent birds of paradise. The birds are the subject of a passage in Freedom, a book that has a cerulean warbler adorning its cover.
"Well, look what it's doing," Franzen, an angular figure who wears a plaid shirt and jeans, says of the towhee. It has taken him a decade to confidently identify different sparrows. "It's hopping back and forth. Scratching in the dirt. It's got this wonderful taupe and then the peachy accent underneath the tail and it's very, very beautiful.
"Little brown birds hopping around quietly in the underbrush, picking at seeds. They're shy. Hard to see. It's friendly."
Climate change looms as a further hammer to birds but Franzen has argued conservationists have gravitated to climate campaigning at the detriment of more immediate threats, such as the loss of wetlands or, in the case of seabirds in remote locales, rats that eat hapless chicks alive.
"Right now climate change is among the four or five minimal reasons for decline, (there's) very little direct effect on seabird populations so far," he says. "For the moment the one big reason is cats, rats, and mice. It's that simple." Line-caught tuna, Franzen said, is decimating albatrosses, which lay at most one egg a year, to the point of no return. "You can do the math but it's like 20 years and they'll be extinct," he says.
In 2015, Franzen had a minor spat with Audubon, the US bird conservation group, over the organisation's finding that around half of all North American bird species face potentially dire changes to their habitats from warming temperatures.
"It seems like our best shot is to try to continue education efforts about the hazards to your cat by having them outside and to publicize the scale of killing by outdoor cats. I fear the latter thing is effective in only a minority of cat owners."
Trudging to a nearby body of water, Franzen sweeps the scene with a mounted lens and glumly notes the lack of birds, save for a couple of horned grebes. A red-tailed hawk circles overhead.
Franzen has lived full time in Santa Cruz for the past four years - a poster of North American birds hangs on the wall of an elegant home on the edge of town. Even though he could see a riot of migratory birds in Central Park, far more that would be possible near his new abode, New York "has changed and I don't like it anymore. It's become a place only of money and doesn't feel like home," he says.
This stance – wind turbines obliterate a fraction of the birds killed by the drilling and mining operations of fossil fuels, an industry Trump supports – has enraged bird aficionados almost as much as the Trump administration's lifting of a ban on lead ammunition, which causes eagles to be poisoned.
"It's like there's not a lot of room for facts in his head, but that seems to be a fact that got in there," Franzen says, shrugging. "You know, it's always such a word salad with him."
We move onto a coastal preserve thronged with eucalypts and sea fig. Franzen excitedly thinks he's caught sight of a Californian thrasher, a long-tailed songbird with a curved beak. "This is such a good bird," he says, darting forward to a bush where the bird is hidden and imitating its chirp. "This is not really the time of day or year when you really would expect them to to be seen. I think that it's kind of...thrashing around in there."
The thrashing thrasher refuses to be seen further, so we push on to observe a downy woodpecker - "love a woodpecker", Franzen mutters – and stop for a few moments to discuss his feelings on ducks. "Duck is the one thing I don't eat because they are really badly behaved," he says, describing in detail the corkscrew-shaped penises of male ducks, which routinely attempt to rape females. "You shouldn't be too sentimental about ducks."
When Franzen is writing, he does so in the mornings, which is prime birdwatching time. The success of The Corrections allowed him to "goof off for a couple of years" and watch birds but Franzen's time is is more cluttered now.
His enthusiasm is undimmed, however. Hiding in plain sight, for most of his life, was an astonishing array of creatures that survived other dinosaurs and can be found in every corner of the world, traversing huge distances of the planet in herculean feats of endurance and speed.
And now he sees them, everywhere. He later emails a list of birds seen on our walk – 26 species in all. Most of us only glance at these birds, if at all. But once seen - properly seen - they are hard to ignore again.
"I think as nature recedes from human's experience, younger people especially, care less about it," Franzen says, as he looks at a flock of Heermann's gulls skim low across a raft of seaweed on the Monterey Bay. "I do have a sort of self-inflicted sense of responsibility to keep reminding people that nature may have receded but it hasn't entirely disappeared."
Franzen ponders if his birdwatching is a passion or obsession, or both. We are standing near the hulking skeleton of a blue whale on display and it's starting to get chilly. "The birds are leaving us," he says. "Something in my character makes me sympathize with threatened things, the same way that people don't read novels like the way they used to.
"It makes me want to advocate for literature. And birds in trouble makes me want to advocate for them. I love them. The two things I love most are novels and birds, and they're both in trouble, and I want to advocate for both of them."
Franzen grapples with his tripod, curses as it refuses to buckle to his will before it finally relents. He walks back to his car, which is partially filled with tennis balls. He says enjoys going on court but can give away easy points. "I get distracted when I see a bird and the ball just goes past me," he says.